BOss CE-5 Chorus Ensemble Review
Verdict and Review Summary
The CE-5 is a solid and reliable offering, like we've come to expect from Boss. It's subtle on a lot of settings, ideal for layering over rhythm playing.
For this review we tested, photographed, and recorded the CE-5 Chorus Ensemble. All of it is a first-hand account of the product. To support our site, you can shop via the orange button above at no extra cost to you.
To begin, I want to cover a bit about the overall feel and vibe of the Boss CE-5.
Most of what I was able to get out of it would best be described as a subtle modulation layer. While this isn't unusual with chorus pedals, I'd be willing to say that the CE-5 is less intrusive than most of the chorus effects I've tested.
This is - in my opinion - a good thing, because I'm personally not a huge fan of the "pitchier" chorus sounds. I just have a harder time getting them to meld with my playing style, which has endeared me to the CE-5 (you can see in the pictures I've used it a lot) as a chorus that can sound deep without sounding completely out of tune.
Compare to Similar Chorus Pedals
Search for Additional Pedals to Compare
CE-5 Pricing from Different Vendors
$131.59
$139.99
in stock
28 new from $131.59
13 used from $88.99
as of October 1, 2023 10:14 pm
CE-5 Price Tracker (pulls price from Sweetwater)
Sweetwater
Boss CE-5 Stereo Chorus Ensemble Pedal, Boss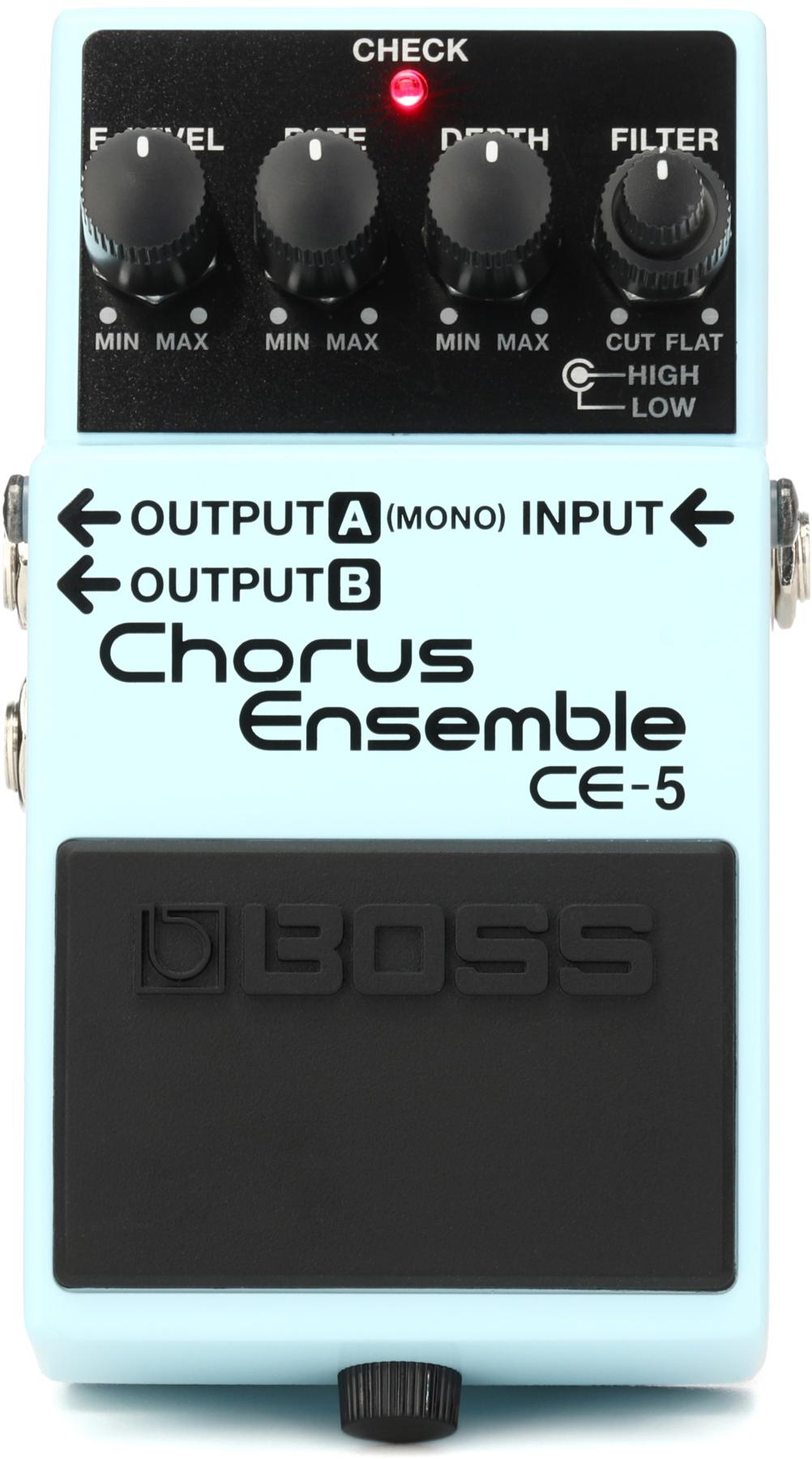 Sweetwater
Statistics
| | | |
| --- | --- | --- |
| Current Price | $139.99 | September 30, 2023 |
| Highest Price | $159.99 | June 29, 2022 |
| Lowest Price | $119.99 | November 24, 2022 |
Since June 29, 2022
Last price changes
| | |
| --- | --- |
| $139.99 | August 11, 2023 |
| $159.99 | August 9, 2023 |
| $139.99 | July 7, 2023 |
| $159.99 | June 16, 2023 |
| $145.91 | June 9, 2023 |
CE-5 Ratings Table
The CE-5 is at its best with all knobs set to 12 o'clock, but even if you max out the E. LEVEL control, it still sounds really nice and seems to preserve the integrity of your clean tone.
I'd say the same thing about the RATE knob.
Faster swirls in the CE-5 don't sound intrusive or chaotic. They're smooth and inviting, without taking too deep of a pitch cut.
Here's my own video demo of some basic Boss CE-5 settings with no talking (pedal audio only):
There are two knobs under the FILTER control:
This simple add-on is an extremely effective tone-shaping option, allowing you to cut highs or lows completely out of the wet signal's mix. It gives you a lot of added versatility and a little more creativity than what we see in the CH-1 Super Chorus.
Boss does a good job here of giving you something beyond the typical RATE and DEPTH modulation controls, even while that's a common industry stopping point.
As I mentioned earlier, the overall tone profile can be described as smooth and less intense than a lot of chorus and flanger pedals. You've got to push the depth knob pretty high to get any kind of pitch cut, though this might lead some to be disappointed with the presence of the effect.
Best Fit and Context
It's a great fit for acoustic guitar pedalboards and certainly ideal for rhythm electric guitar players who want to add a little more substance to their clean tone.
At its price point, the CE-5 can suit nearly any situation.
I've used it a lot in a recording context and at church, both with acoustic and electric guitar rigs.
How do I power the CE-5?
The Boss CE-5 can be powered by a single 9V DC power adapter, either standalone or from a power supply, or a single 9V battery.
Does it include a power supply?
The Boss CE-5 does not ship with an AC adapter. However, Boss usually includes a complementary 9V battery.
Is the CE-5 true bypass?
No. The Boss CE-5 Chorus Ensemble is not true bypass.
Is the CE-5 a good fit for bass guitar rigs?
I've used the CE-5 with a Warwick 5-string bass and actually liked the sounds I got out of it. Since I wouldn't recommend any kind of heavy pitch-shifting for bass rigs, the CE-5 is a good option since it's more on the subtle end of the modulation spectrum.
Manuals
What are some good alternatives to the CE-5?
From a pricing perspective, the CE-5 is one of the best-value chorus pedals available. However, it's most common alternative (without as much regard to price) is the Boss CH-1 Super Chorus. Both pedals are quite good, though the CH-1 tends to retail a bit higher.
Other Chorus Pedal Resources
Is it compatible with an expression pedal?
The Boss CE-5 does not support an expression pedal connection.
Conclusion
Our rating system takes into account weighted scores for each factor, which gave the CE-5 just under a 90 out of 100. It loses points for its overall tone grade, partly because you don't have a true bypass connection.
However, for what you pay it's one of the highest scoring pedals in that particular price range.
I'd recommend it for nearly all situations, regardless of musical style or skill level.
Your Questions and Comments
If you have questions about this pedal, our grading system, or how I've graded the Boss CE-5, feel free to leave those in the comments section below and I'll help as much as possible.
Related Articles