How much does a Fender Telecater cost?
The Player Telecaster is the most common series in the Fender Tele lineup, priced at $849.99. In our Fender Telecaster price guide, we'll give you more pricing information on the Player Tele as well as the American Professional II Telecaster.
As we also noted in the Fender Stratocaster price guide, there are multiple versions of the Fender Telecaster and - to make matters worse - multiple versions of those versions. Nailing down a "de facto" Fender Telecaster price is easier said than done.
To simplify, we're going to focus on the Player and American series, specifically the Professional II version:
Fender Player Telecasters Price
American Professional II Telecasters Price
In the tables below we'll provide price comparisons for both by pulling live pricing from multiple vendors.
Our price guides and tools are updated in real time, pulling from multiple vendors to help you get the best and most-current information possible. Note that these are not reviews or recommendations, but simply a resource for those already interested in the Fender Telecaster. Also, if you buy gear through our orange buttons (partner links), we might earn a commission at no extra cost to you. Thank you for your support.
Fender Telecaster Prices at Sweetwater
Sweetwater deals almost exclusively in new gear and closely follows the market value of electric guitars. For getting a retail Fender Telecaster price, we'd look to them first. Most of the time, color and handedness variations stay the same.
Fender Player Telecaster
The Player Telecaster series is the cheapest Fender makes, though still considered an excellent mid-tier electric guitar. This table has pricing for several variations available on Sweetwater.
Sweetwater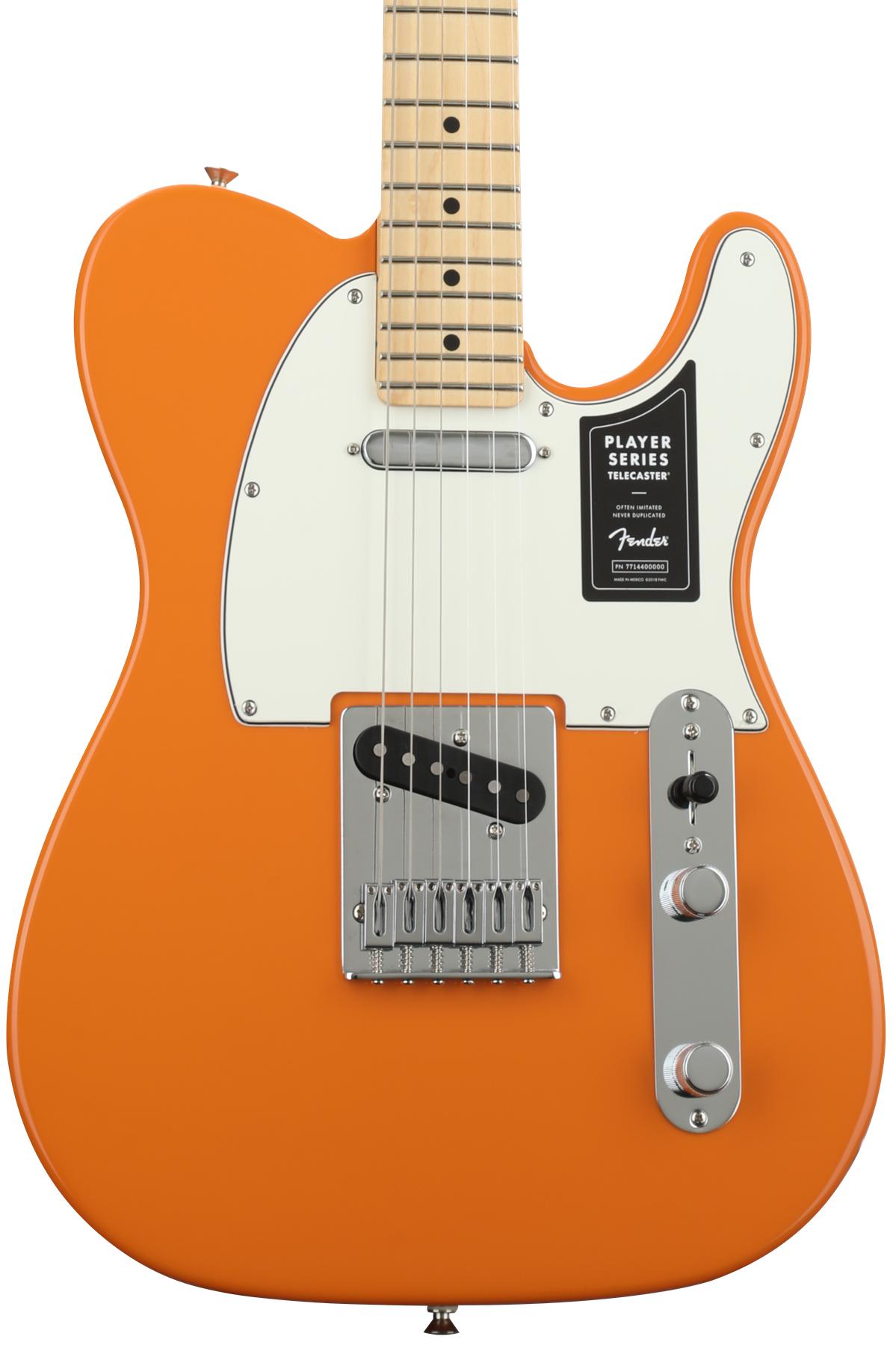 Fender Professional II Telecaster
The Professional series Telecasters are the more expensive line and have a lot of different variations (Performer, Ultra, Original, etc.), with prices differing for each one. But the Professional series, now the Professional II, is the most popular American series Tele, so we're displaying pricing for that particular model.
Again, this table focuses on several variations from the Sweetwater catalog.
Multiple Vendors
Fender has been around for a long time and are the single most popular guitar builder in existence, rivaled only by Gibson. As a result, they're available through a ton of different vendors, so we've added some of those prices as well so you can make some comparisons.
We'll do the Player series first:
Telecaster Player Series
Telecaster Pro Series (Professional II)
Same deal for the Professional II Telecasters:
Price Alert Sign Up (based on Sweetwater retail)
This price alert tool is based on Sweetwater's retail and only includes the Player series, since the American series Teles don't fluctuate in price very much. Besides, when they do, it's usually not getting cheaper.
Create an alert and we'll let you know when the price drops.
Set price alert for Fender Player Telecaster - Butterscotch Blonde with Maple Fingerboard - $849.99
Fender Telecaster Price History (based on Sweetwater retail)
Like the above price alert tool, this graph plots price history for the Player Telecasters based on Sweetwater retail. It takes the lowest price of those listed.
Price History for Fender Player Telecaster - Butterscotch Blonde with Maple Fingerboard
Statistics
| | | |
| --- | --- | --- |
| Current Price | $849.99 | September 22, 2023 |
| Highest Price | $849.99 | September 20, 2022 |
| Lowest Price | $849.99 | September 20, 2022 |
Since September 20, 2022
Last price changes
| | |
| --- | --- |
| $849.99 | September 20, 2022 |
Reverb Price
We can display pricing from Reverb but because of their setup, we have to give them their own section. They're the best used market - in our humble opinion - and will display the number of used items available with the lowest price among them.
This number updates every 24 hours:
Other Buying Options
We can't pull pricing from Musician's Friend or Guitar Center because we don't have agreements in place with them yet. However, they're also great places to check Telecaster pricing since they carry a wide range of Fender products. We'd recommend checking out their inventory if you want to do some more comparing.
Conclusion
The biggest determining factor in what you end up paying will be whether you're going with the Player or American series Telecaster. Once you decide, this page will at least let you see your options and compare. If you have questions about our Fender Telecaster price guide, drop them into the comments section below and we'll chat about it.
Related Articles
Written by GC Editorial on Telecasters and Roundups
Written by GC Editorial on Electrics and Roundups